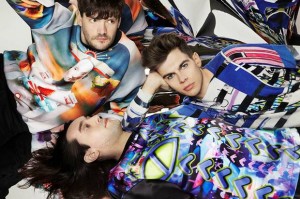 Klaxons are back at last, and look at those outfits! You can count on this chaotic band to add a blast of colour to the music world. Though they started a scene, new rave, when they first exploded out of New Cross in 2006, there's still no one else quite like them. "I think that was the attraction of what we were doing," says bassist and singer Jamie Reynolds. "We opened the door and said, 'Everybody get on board, this is a mad ride'."
What have they been up to since we last heard from them four years ago? Oh, y'know, the usual: producing a documentary about Adam Ant by surrealist film director Jack Bond (Reynolds), taking a university course in the works of science fiction author Philip K Dick (guitarist Simon Taylor-Davies) and marrying a Hollywood superstar (keyboard player James Righton, who was spliced with Keira Knightley in the South of France last May).
Righton, 30, plainly doesn't want to talk about his love life when it inevitably comes up. His leg starts jiggling violently under the pub table as he says, simply: "It is what it is. I have no control over it. It's our private life. There's nothing more that you can say really other than she's my wife. It doesn't have anything to do with the band's world."
He says he'd rather stay at home and watch The Voice than traverse a red carpet, and the pair, who got together in 2011 after being introduced by Alexa Chung, have done a remarkably good job of staying out of the celebrity press. Even with a new album to plug, one that deserves to take his band to a higher level by tackling dance music in the most crowd-pleasing way, Righton would like to keep it that way.
Better-looking than everyone within a five-mile radius with his sharp blue eyes, extensive quiff and denim scruffiness, it's perhaps not surprising that he's squiring an A-lister, though he won't be sharing his secrets today. His natural effusiveness returns only when discussing What a Day for Me by Harumi, the Sixties Japanese psych-folk obscurity that the other two Klaxons sang at the wedding in Mazan town hall.
Indeed, all three of them are clearly still deeply in love with music as they prepare to release their third album this summer. Upstairs in an Islington pub equidistant from their homes, over a less than rock 'n' roll selection of herbal teas and juices, the talk is of buzzy US band Future Islands, the none-more-desirable gear collection of Tom Rowlands of The Chemical Brothers, at whose East Sussex home they mostly recorded the album, and the experimental techniques of Robert Fripp and Brian Eno. Taylor-Davies, 30, is clutching a large package of records from the online vinyl market Discogs that he's itching to open.
It didn't always come so naturally. The hype around Klaxons started so quickly that they had to learn how to play their instruments properly while touring the UK. "We weren't musicians when we started. We could barely put something together," says Reynolds, 33.
"We didn't have that incubation some have," adds Righton. "But I think that's the way bands should be. There's a bit of mistrust when a band comes out so polished."
Polished was the last word to apply to them when their debut album, Myths of the Near Future, arrived in 2007. The sound billed as "new rave", because they wore DayGlo outfits and covered Grace's Nineties club classic Not Over Yet, was almost drowned out by scratchy indie rock guitars and shouting. They were nearer to punks than ravers. "It was absolute chaos at the start. We were making it up as we went along. It was this crazy whirlwind of madness," says Reynolds.
Controversially, that album beat Amy Winehouse's Back to Black to win the Mercury Prize, a surprise that made for great telly when the group, with Reynolds on crutches after breaking his ankle and all clearly the worse for wear, almost hugged each other to death on stage. "It looked exciting on TV because we really were very excited," says Righton. "You can be at these things, really cool, like it doesn't mean anything, but it meant everything to us."
It was after that peak that the script became more predictable. The curse of the Mercury struck hard and they seemed stuck on how to follow the unforced exuberance of their debut. In the end they settled on a heavy rock sound honed by American metal producer Ross Robinson but forgot the tunes. The second album, Surfing the Void, sold a 10th as much as its platinum predecessor. One newspaper cited them in an article entitled "When bands fall off cliffs".
Today they seem proud of it regardless. "I think it's a misconception that our last record wasn't very good. I think it's a fantastic record. All the reviews were quite glowing," claims Reynolds. Even so, its commercial failure would be one way to explain the new album, Love Frequency, and its total sonic about-face.
Rock collaborators have been abandoned in favour of dance producers Gorgon City, Erol Alkan, LCD Soundsystem's James Murphy and Tom Rowlands. The largely electronic sound is lighter, poppier and fits much more comfortably with current trends than their often awkward earlier work. To their delight the comeback single, There is No Other Time, is now on Radio 1's A-list. "It's what we've been working towards. Touch wood, it's on its way to becoming a hit," says Reynolds.
"After touring for a couple of years, we didn't want to be in a room playing our instruments together," says Righton. "Having toyed with it and said that's what we were in the past, now we're wholeheartedly making dance music."
"We're fulfilling a promise that we made some time ago," says Reynolds of these new ravers finally writing some songs you could play at a rave.
"But we'll probably want to make a country record next, or a reggae one," adds Righton. I wouldn't put it past this least predictable of groups, but for the moment at least, let's enjoy their vivid world being more accessible than ever.
There is No Other Time is released on Sunday on Akashic Rekords, and Love Frequency on June 2. Klaxons are at Oslo, E8 (020 3553 4831, oslohackney.com) on April 2