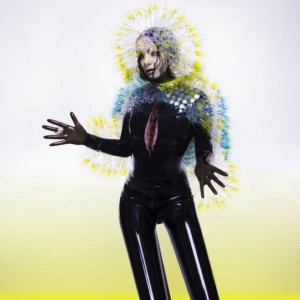 Bjork's surprise album release this week is not a marketing stunt to match recent bombshells by Beyonce and U2, which were deliberately unveiled as surprise downloads with great fanfare. We had already been warned to expect this one in March, but online leaks have forced the Icelandic musician into an early reveal in the iTunes store.
For someone whose last release, 2011's Biophilia, was so carefully thought out that it ended up incorporating a beautiful app, a David Attenborough documentary and an education project, it must sting to rush out the next one. For Vulnicura is not something that can be considered at the speed of a sudden download. As a whole her ninth album is more personal, more emotional and more bleak than she has ever sounded.
She described it on Tuesday as a "complete heartbreak album". It documents the end of her relationship with artist Matthew Barney, father of her 12-year-old daughter. The songs are raw, bitter and occasionally optimistic – hence the title, which seems to blend the words "vulnerable" and "cure". It is about both "the wound and the healing of the wound", she says, depicting herself with chest carved open on the cover.
Musically the content steps away from futurism towards the human warmth of rich string arrangements. Stonemilker is a stunning start, that unmistakable voice soaring over a grand orchestral swell while digital beats hiss and rumble from far away. Her co-producer Arca, aka young Venezuelan beatmaker Alejandro Ghersi, helps to keep things forward-looking – the rhythms throughout are complex and unfamiliar. Here and there Bjork's vocals, and also those of Antony Hegarty, who appears on Atom Dance, are electronically skewed.
She has said that she enjoyed the fast workrate of her collaborations, and perhaps Vulnicura is not as desolate as it could have been. The song Family is particularly tough going, as she details the dissolution of their three-strong unit over buzzing violins and lurching cello. The 10-minute midpoint Black Lake, too, feels almost too intimate for an audience, a ripped photograph thrust at strangers.
But there is great beauty here most of all. Her sadness has birthed another extraordinary work of art.