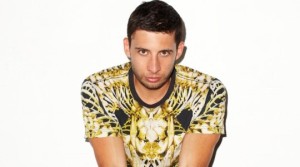 Time was, the only regular exercise that rock stars were getting was not suitable for describing in a family magazine. Keith Richards may have the headbands but that's as close as he's ever going to get to the runner's lifestyle. For musicians, whose job is partly to be hip, isn't running, with its schedules, time challenges and technical clothing, a bit square?
Not at the Rock 'n' Roll Marathon series, where there are so many bands playing along the route that you'll need to pack earplugs along with the Deep Heat. Mike Malinin, the drummer of big-selling Buffalo alt-rock band The Goo Goo Dolls, managed the ultimate union of the two worlds when he ran in the event in Arizona in 2004. He did it in five hours eight minutes – not too shabby once you learn that he stopped to play drums with 26 different groups on the way. The Goo Goo Dolls, known for their giant 1998 hit Iris, performed the post-race concert too.
Malinin, 46, left the band last year and is now the proud father of baby twins, which has put a slight dent in his hard-earned reputation as rock's premier ultrarunner. He has four 100-mile events under his belt so far, three of them the Angeles Crest 100 (with a best time of 25:22.13 in 2004) but isn't sure when he'll manage another one.
"After I ran a few marathons and realised I wasn't going to break any speed records, I wanted to know how else I could challenge myself," he says of his route towards the toughest races in running. "It fit into my lifestyle – I was living in LA and I loved running in the mountains, and I enjoyed running on tour. Some of my greatest memories around the world are runs while I was on tour. I've only been seriously lost twice, when I literally could not find the hotel – both times in Amsterdam."
He first tested out how he would cope with really long distances by going for a 30 mile walk. Then he ran his first 50 miler in 1997. "Finishing that race was probably more painful even than the longer ones I've done since. My body wasn't prepared for it. It felt like my shins were broken for the next week."
Admittedly there isn't much competition for Malinin's crown as top ultrarunner of rock. There's also Mike Dimkich, formerly guitarist in The Cult and now playing with veteran US punk rockers Bad Religion. He's more of a cyclist these days but has a few ultras in his history, including the 90km Comrades Marathon in South Africa and again, the Angeles Crest 100. He first started running for rock 'n' roll reasons, having found himself unable to squeeze into his leather trousers.
He's not the only rocker who has found more joy away from the cliches of his job. Ben Gibbard, singer of indie bands Death Cab for Cutie and The Postal Service, has just done his first 50-miler. Now 37, he started in his early 30s when the touring lifestyle started to take its toll. "Becoming a runner coincided with me shedding some unhealthy habits. I used to be a heavy drinker, and I quit at the same time I picked up running. I felt it was best to trade an unhealthy habit for a healthy one," he has said.
Remember that people like these essentially go to work every day in an office full of beer and whiskey, never mind whatever else is on offer unofficially. Gibbard found a way to do something more positive with his band's downtime: "We realised that if we took the amount of money we used to spend on one tour in booze alone, we could easily buy a treadmill we could use on tour. We used to spend USD300, 400 per night in booze."
The most common trigger for starting to run seems to be vanity – not uncommon for the rest of us either, of course. When Ricky Wilson of Kaiser Chiefs began his new job as a judge on the BBC talent show The Voice, on prime time Saturday telly, you may have noticed a change in his appearance. Wasn't he the slightly pudgy singer who threatened to split his trousers every time he jumped around predicting riots? That was before he began running and cycling on a regular basis.
"The Seventies was a period when you could get away with having a beard and a belly and wearing jeans and a T-shirt on stage. That was a really good time for blokes, it was all about musicianship and less about the dance moves," he says. "As vulgar as it is, I thought if I'm gonna be a pop star, I might as well put some effort in. And you know what, it makes you a lot happier in the end."
The pop world has always been slightly different from the rock world, though. That lot seem to start from a first principle of looking good – some of them have been runners even before they were singers. When Ellie Goulding, a well-known running nut who has collaborated with Nike in the past, was studying Drama at university in Kent she was focusing on ways to keep people fit through physical theatre. Example's dad, a veteran of 13 marathons, got his singer son into running when he was 16.
Example, real name Elliot Gleave, currently covers 20-30 miles a week but keeps this training separate from the life of the touring musician. "When I'm on tour I don't run at all. The gigs are 90 minutes so take it out of me. I stretch before the show and ice my achilles and calves after," he says, maintaining some athletic habits even when he's not running.
Keeping running apart from his life as a musician seems to work for him. "I do it now mainly to clear my head. I never listen to music when I run as it's one of the only times I get to forget about my job for an hour or so. " Though with a half-marathon PB of 1:19:47, imagine what he could do if he was trying.
For others, it helps with the day job. Ryan Tedder, frontman of OneRepublic[CORRECT] and writer of hits for everyone from Adele to Beyonce[ACUTE ON SECOND E], calls running his "ritual". Knock on the door of his tour bus and you'll invariably find he's gone for a five-miler around whatever town he's in, listening to his latest composition on headphones to check it works outside of the studio. "I find all my mistakes when I'm running because my brain shuts off and I listen as a fan," he says. "It's an out of body experience, I'm not listening as me."
He likens songwriting to running: "Never stop. Writing is a muscle that gets weak if you stop using it." If putting one foot in front of the other on a regular basis is helping with the crafting of many of the biggest songs of our time, as well as helping other rockers to get into their trousers, we have to be grateful for the influence running has on its musical devotees.
MORE RUNNING ROCK STARS
Flea
The Red Hot Chili Peppers bassist was a latecomer to running, having been inspired by the popular Christopher McDougall book Born to Run. "I love a few things about Born to Run —the big one being our bodies are meant to do it. If it's meant to run, I'm gonna run it," he said. He did the LA Marathon in 2011 in 3:52:59.
Rodrigo Sanchez
Half of the arena-filling acoustic instrumental duo Rodrigo y Gabriela, he too started taking running more seriously when he read Born to Run, and has since struck up a friendship with the book's ultrarunning hero Scott Jurek. Fellow vegans, they've been running together in Denver.
Harry Judd
McFly's drummer and Strictly Come Dancing victor Judd did the London Marathon last year for the charities Teenage Cancer Trust and Eyes Alight. "I've always kept fit, but respect due to runners – it's hard!" he said.
Colin Greenwood
Cerebral rock band Radiohead aren't known as the most athletic crew, but their bassist completed the Blenheim Palace Triathlon in June as part of a 22-strong team, raising money to help his nine-year-old neighbour Scarlett Clarkson to fight acute lymphoblastic leukaemia.
Grant Nicholas
The frontman of Feeder started running about 12 months ago as he prepares to launch a solo career. So far his greatest achievement is a 43-minute 10k. "Not bad I guess, considering I was a bit hungover at the time," he says.
David Lee Roth
The Van Halen legend did the New York Marathon in 2010 but didn't extend his formidable reputation into the running world. He finished in a dire 6:04:43.