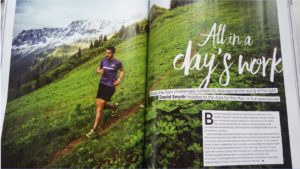 Beat the Sun sounds more like an undertaking for astronauts than athletes. They call it "nature's toughest challenge", though at 5.44 in the morning, the toughest challenge for the residents of the hotels that surround Chamonix town square is remaining asleep while commemorative cowbells clang, flares erupt and a DJ greets the alpine sunrise with deafening dubstep.
ASICS have been putting on this relay race for three years now, the brainchild of French race director Laurent Ardito, who has found that sweet spot for a test that is daunting, just about achievable and captures the imagination. In the simplest terms, it's easy to understand: start at sunrise, run around the Mont Blanc massif, finish in the same place before sunset on the longest day of the year. To say it again with numbers, that's 87 miles through three countries, including 29,000ft of ascent (the equivalent of scaling Everest) in 15 hours and 41 minutes. This time eight teams of six will attempt it, three elite runners and three amateurs, in 12 legs, the longest of which is 11.8 miles.
Chamonix, the site of the first ever Winter Olympics, is accustomed to being invaded by trail runners, as the home of the iconic Ultra-Trail du Mont-Blanc in late August. This course is similar but a little shorter, following a hiking path that usually takes walkers 7-9 days. The town sits beneath the surrounding mountains like the plug in a gigantic sink, and when you're there, the only inclination is to go up. A statue of 18th Century Swiss explorer Horace-Benedict de Saussure points enticingly towards the summits in the central square. They look inspiring, overwhelming, and astoundingly beautiful as the previous day's lowering sun turns the snow caps golden.
Matty Hynes, the only British elite taking part and the primary runner for Team Europe North, is feeling less poetic in the build-up. "The first stage is a twat of a stage," he announces. He's a Middlesborough man ("God's country," he says more than once) who came 17th in the 2015 London Marathon with a time of 2:16:00, but missed out on a place at the Rio Olympics due to illness during qualifying. He's also something of a wild card among the more robotic stars of distance running, struggling to sleep the night before the race because he's so angry at England's feeble football performance against Slovakia in the Euros, and slipping into a Joy Division T-shirt as soon as his sporting duties are finished.
A remarkable array of different talents gathers to meet the press on the day before the race. There's Ryan Hall for Team Americas 2, runner of the fastest marathon by an American (2:04:58 in Boston 2011). Now retired at 33, he's been spending his time body building and looks quite the beefcake. There's Deena Kastor for the same team, an Olympic marathon bronze medallist in 2004. Eun Ju Kwon, for Team East Asia, held the Korean women's marathon record for 18 years. Also present are Olympic speedskater Erben Wennemars from the Netherlands, Italian cross country skier turned trail champion Xavier Chevrier and German obscacle course racer Charles Franzke.
Americas 2 is the team everyone wants to beat. But leading Americas 1 is the real expert: Colorado trail champ Megan Kimmel. She's participated in both previous Beat the Sun events and known the pain and the joy. The inaugural event in 2014 was a two horse race between a team of four ultra runners and a team of seven shorter distance runners. Kimmel's team, the latter, missed the sunset by just 33 seconds. Last year's Beat the Sun featured five teams of six and included amateurs selected from thousands of applicants for the first time. Kimmel's team won, outrunning the sun by 38 minutes. "A lot of our trails in the States are made for trail running, whereas in Europe a lot of them are just old passes for going from town to town. They're more direct, and more vertical," she says.
In any case, she doesn't have much of an advantage on her return, because this year they've decided to do the course in reverse. There's a lot more snow this year, and they want to get the whitest leg out of the way early on. "It's too dangerous to have this part at the end, with the risk of crossing a high pass in the dark," says director Laurent Ardito. "The race is very technical this year." He's got three helicopters on standby and eight mountain rescuers.
At 5.44 on June 21, damp greyness slowly pales and the first eight runners begin to head upwards. By the end of the first leg, when the elites hand over their tracking devices to the first set of amateurs, there's already an 18 minute gap between first placed Chevrier of Europe South and eighth placed Kwon of East Asia, who looks utterly spent and has two more legs to run later in the day.
Leg 3, a steep descent in thick snow, is tackled by two team members together, holding on to a rope as they stagger and slide downwards. The doubling up here means that each team's first runner has to tackle three legs in total. "I didn't want to flatline on the first leg, as it'll catch up with you," says Hynes. In his training for this event he's cut out his big Sunday runs but gone out twice a day to get used to running on tired legs. "Everybody tries to complicate marathon training, but all it is is learning to run when you're tired."
The long day wears on. It's not easy to spectate, and much of the race is spent peering at coloured icons creeping along a map on a computer screen. It starts to be a battle between the three European teams – North, South and Central. But by the leg 7 handover, in Courmayer in Italy, it's obvious from the huge gaps between teams that many are struggling. Teams East Asia and Oceania-Pacific are eliminated at this point, having failed to meet their cut-off times. Brazilian amateur Mariana Bruger from Americas 2 has to pull out here with a leg injury and be replaced by a substitute. "It was not an easy decision but I need to think about my team," she says.
The British amateur, James MacDonald, takes on leg 7, the shortest and steepest. It's been switched at the last minute for safety reasons, from a climb that requires ropes and a helmet to a plain old horrendous ascent. He's a cancer survivor who organises the Junion Parkrun in Wilmslow, and has an Ironman coming up in Bolton a few weeks later.
After that he can head off for a well-earned lie down in his hotel spa, while Hynes waits patiently for leg 12, a road run, relatively flat, back into Chamonix. His yellow-shirted team mates join him for a triumphant sprint through the streets, an amazing 51 minutes ahead of the sunset. They're 38 minutes ahead of Europe South, the only other team to beat the sun this time.
"I just see myself as an ordinary runner. I can't see how I would ever top this day," says a beaming MacDonald. Deena Kastor, despite finishing in the dark, can't stop smiling either. "I can't believe how challenging and joyous it was at the same time," she says. The sun will make the same journey again tomorrow, but the runners have more than earned a long rest.
Sign up for a chance to Beat the Sun in 2017 at races.asics.com/beatthesun