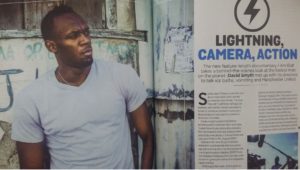 Spoiler alert! There's a new film out about Usain Bolt, and I can tell you exactly how it ends. The man they call "Lightning" defeats the baddies, wins all the medals and returns home to Jamaica covered in more glory than a Magnum ice cream is covered in delicious chocolate.
It was a slight problem for British brothers and co-directors Ben and Gabe Turner: how do you give a documentary film the required dramatic tension when practically everybody in the world already saw your finale in Rio, August 2016? Besides that, how do you maintain interest in a protagonist who has barely put a foot wrong since his first spectacular trio of gold medals in Beijing 2008? Even the cheesiest Hollywood blockbuster puts its hero in grave peril before the obligatory happy ending.
"With a guy like Usain who's given so many interviews and had the same questions constantly asked of him, it's not interesting to make a film telling you stuff you've heard again and again," admits older brother Ben, 39. "We wanted to find out what HE wanted to say about his life. What's it like to him to be this dominant athlete? He's the fastest human being in the world so to get into his perspective and find out what it's like to be him – that's fascinating to me."
The brothers spent a year and a half following Bolt, beginning a few months before the World Championships in Beijing in August 2015. They captured him training hard, hating ice baths as much as anyone, dying of boredom in hotel rooms and yes, partying hard too. Crucially for the film's dramatic value, the Bolt of these World Championships and Rio is a different man from the one who set the 100 and 200m World Records in Beijing 2008 looking like he was just nipping past on his way to the shops. Having raced less regularly than others, he's got the USA's Justin Gatlin – an easy sell as the villain of the piece – snapping at his heels. A few months before Rio, he suffers an ankle injury that he must go all the way to Germany to get treated. "The older I get, the less fun it is," he complains. He's no longer the clear favourite.
"He blew the field away in 2008. He won that on talent, on sheer God-given ability," says Ben. "But by the time we got to Rio, others could run faster times than him. He won that with character. He won because of who he is, not because of talent. That's a tribute to what it is to be a champion."
Watching the film, the man who smiles, dances, then opens his stride and puts acres between himself and the seven other fastest men in the world, does turn out to be human. He struggles with motivation, given this unprecedented physical gift but preferring to go quad biking. He shows his father, Wellesley, and his second father, coach Glen Mills, quiet respect. He irons his own shirts!
Viewers may be surprised by his training setup, which appears to be a handful of people, including his schoolfriend and manager Nugent 'NJ' Walker, and a tent in a dusty field in Jamaica. Mills is a star of the film, a man so chilled that hospitals could boil him down and use him as morphine. He looks like he should be playing dominos outside a rum shack, but if he tells the fastest man on the planet to sprint up and down dragging a sledge loaded with weights, Bolt will do it. "We don't need to have a military thing. If you can reach people you tend to get more out of them – that's my philosophy," he says, very slowly.
The Turners didn't have much trouble winning Bolt's trust. They arrived on the project fresh from making a documentary about the sprinter's favourite football team, Manchester United. Class of '92 told the story of the blessed batch of United youngsters that included David Beckham, Ryan Giggs and the Neville Brothers. Helpfully, Bolt had no problem with being on camera all day. "He's very of the modern world," says Ben. "He's always filming himself on his phone." At one point they were worried that his Snapchat feed was going to be more revealing than the documentary.
But it's the self-shot footage from Bolt and other members of the Jamaica team that gives a new perspective on events that might otherwise be overfamiliar. You can see part of the 2008 triumph on decathlete Maurice Smith's tiny, flickering athlete's village television, and hear Smith's jubilant reaction. And you get a sense of the flipside of that ecstasy when Bolt is sluggish and contemplative in hotel rooms, talking to his phone camera because he has nothing else to do.
It's not an unbalanced idealization of the 30-year-old, though you're unlikely to come away from it loving him any less. It's simple, says Turner: he really is as cool as you hoped he would be. "He's not actually a dickhead who's pretending to be a good bloke. He just is who he is. He's a special man and doesn't think that he's a better human being than other people. He restores your faith in everything you hope sport should be."
So when he looks straight at the camera and says: "I am the greatest," it's not the big talk of an idiot. He just is. Who else could prompt Pele to announce that he is "one of my idols"?
These are the stellar circles in which he now exists. There's Serena Williams comparing him to Pele, Muhammad Ali, Michael Jordan and, um, herself, as "amazing athletes that reached beyond what any other athlete has reached." There's Sebastian Coe saying, "I don't think I can remember anybody since Muhammad Ali that has just grabbed the stage in any sport in the way Usain did."
So there may not be much that we can glean from the film to help our own running. His is an ability that will remain in a different universe to ours no matter how many extra Parkruns we do. "What did I learn from him? Just that I'm a very ordinary human being physically," says Ben. "I'll never forget the sight of him in full flight. It's so beautiful. Everybody runs, it's part of humanity, so to see the fastest person ever recorded, the idea of what that represents… You're dead if you don't care about that. It's like the Moon landing."
BOXOUT: FIVE SURPRISING BOLT FACTS
1 – He works harder than you think
Supposedly he won his Beijing Olympic titles fuelled by chicken nuggets, but by the run-up to London 2012, he was fully committed to training. "I vomited daily," he reveals.
2 – His greatest moment came when he was 15
Never mind the World Records. According to Bolt, it doesn't get any better than winning the 200m at the 2002 World Junior Championships in front of a home crowd in Kingston, Jamaica.
3 – He wants to play for Manchester United
For his post-athletics career, Bolt hopes to avoid the pundits' box and switch to the top level of another sport entirely. It would be unprecedented, but so was the triple-triple.
4 – He doesn't think talent comes naturally
"If you want to be a winner you have to work hard to be a winner," he says in the film, suggesting that those who aren't prepared to graft should take up, "What's that sport with the broom? Curling!"
5 He's a terrible singer
After all the elation, the enduring image of I Am Bolt might actually be the fastest man on earth rolling around his hotel room on a hoverboard scooter, crooning R Kelly like a cat on an operating table.
I Am Bolt is released in cinemas, on digital download, Blu-Ray and DVD on 28 November.  iamboltfilm.com