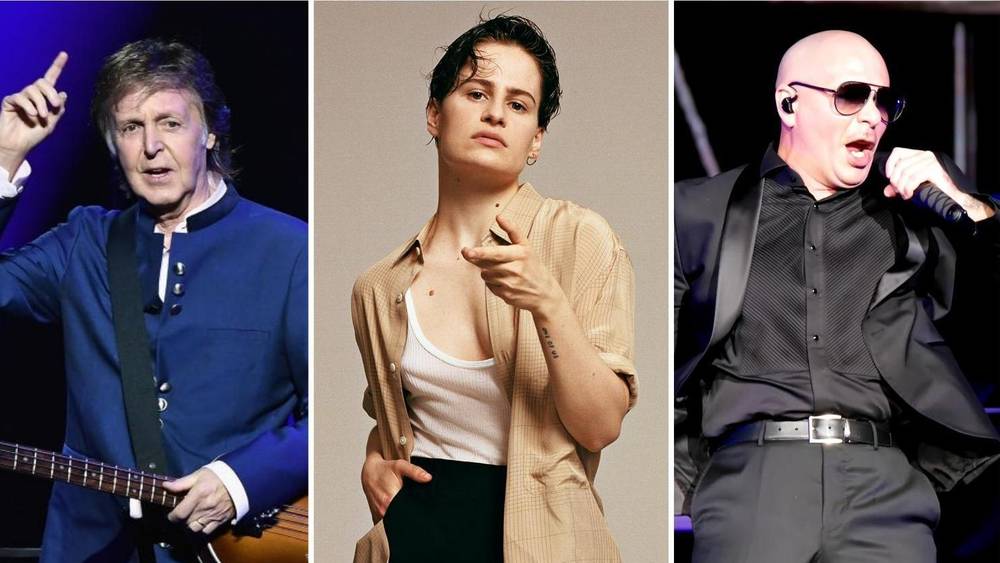 As the Evening Standard still refuses to give my annual pop awards the kind of glitzy ceremony, star presenters and shiny trophies that the theatre and film bashes enjoy, I'm forced once again to ask you to use your imaginations to visualise this page being read aloud by Rihanna in the Dorchester ballroom. Look! There's Marshmello, applauding gallantly. It's been a bumper year for music moments, just a few of which are celebrated in the hastily made-up categories below. Thanks for reading, see you in January!
COMEBACK OF THE YEAR
George Ezra
Ezra released a catchy, peppy comeback single in the summer of 2017 called Don't Matter Now. It peaked in the charts at a feeble number 66. Clearly the public was holding out for even catchier, peppier fare. Paradise went to number two in the spring, then Shotgun hit number one and became the song of the summer. His second album, Staying at Tamara's, is zooming towards double platinum status and Ezra's status as pop's most likeable chap is secure.
PRODUCT OF THE YEAR
BTS's light stick
Those who bought tickets for their kids to see the debut London performance of their favourite seven-piece Korean boy band, BTS, may have been a little taken aback by the merch stand at the O2 this October. "Dad PLEEEEASE can I have the official 'Army Bomb' light stick, which flashes in time to the music once you've downloaded an app, entered your ticket info, scanned a QR code and connected to bluetooth? It's only another 45 quid – oh, and two pounds more for batteries."
POLITICAL MOMENT OF THE YEAR
Stormzy's Brits freestyle
Musicians including Rihanna, Neil Young, Guns N' Roses and Pharrell lined up to denounce Donald Trump for playing their songs at his rallies, Taylor Swift found her political voice and Damon Albarn made an entire album about Brexit. They couldn't match the fire of Stormzy's performance at the Brit Awards in February. The rapper used his platform to add a surprise segment to his hits medley in which he called out the Prime Minister: "What, you thought we just forgot about Grenfell?/You're criminals and you got the cheek to call us savages/You should do some jail time, you should pay some damages."
VIDEO OF THE YEAR
Childish Gambino – This is America
Meanwhile in the US, the music year's most powerful political statement came in Hiro Murai's video for Childish Gambino's This is America. Racism, mass shootings and police brutality are all referenced in a clip that sees Donald Glover leaping from formation dancing to shocking violence in a blink. Then Lenny Henry did a parody video, which was odd.
ANNIVERSARY OF THE YEAR
Now That's What I Call Music!
Madonna turned 60 and Ozzy Osbourne turned 70, but the biggest birthdays of the year belonged to the brands. Spotify marked 10 years in business and an entire generation wondered how people discovered new music before the advent of playlists such as RapCaviar[CORRECT], Holiday Feels and Country Cookout. The real conversation starter came, though, when the Now! compilation series reached its 100th edition. Which one means the most to you? And was that the last year you were ever truly happy?
WORST SONG
Pitbull feat. Rhea – Ocean to Ocean
Ask any parent of young children what the worst song of 2018 was, and they'll say "Baby Shark do doo do doo doo", give you a strange haunted look and go back to trying to get some sleep. That would have been an appropriate one for the Aquaman soundtrack, come to think of it, unlike unholy Miami rapper Pitbull's floundering take on Toto's Africa. Not so much phoned in as scrawled in crayon and sent by carrier pigeon, it has at least generated one of YouTube's more enjoyable comments sections. "Last time Africa was butchered this bad was the Berlin Conference of 1880," wrote one wag.
LEAST LIKELY UNION
Sting and Shaggy
"What's your dream collaboration?" is a question beloved of pop interviewers the world over. No one in history has ever answered: "I'd really love to hear what lute enthusiast Sting could do if he was in the same room as Mr Boombastic." This happy couple conceived an entire album in April, 44/876, named for their respective international dialling codes. It is far from boombastic.
FEUD OF THE YEAR
Nicki Minaj vs various people
Watching Nicki Minaj getting cross was a full time job this year, especially when the rapper had her own radio show on Beats 1 on which she could air her grievances. There was the ongoing feud with Cardi B, which reached a head with a scuffle at a New York Fashion Week party. She was angry with Spotify for supposedly promoting Drake ahead of her new album, Queen. She was especially furious with Travis Scott for keeping Queen off the US number one spot through what she saw as underhand marketing tactics. And you don't want to anger her fans either, as the New York Times story "How One Tweet About Nicki Minaj Spiraled Into Internet Chaos" made painfully clear.
LEAST WELCOME IMAGE
The Beatles bashing off
A wide-ranging interview with Sir Paul McCartney in GQ in September focused on reminding him of some rarer tales he may have forgotten. So it wasn't the first time that he had confessed to an early days group masturbation competition with John Lennon and friends, but it was the first time he'd spoken about it since it was possible for things to go viral on the internet. Accordingly, it keeps coming up now. "It's obviously not that rare," he told this paper last week.
STRANGEST CAREER PATH
Kanye West
No matter how much you loved his past work, it was hard to keep cheering for Kanye West this year, what with the comments about slavery being a "choice", the slapdash album Ye and that MAGA hat. Some of his tweets cast a more sympathetic light on his behaviour, however: "No one would ever choose to end up in a mental hospital and diagnosed with a mental disorder but god chose me to publicly go through this journey and it is beautiful," he wrote last weekend.
WEIRDEST TV APPEARANCE
Richard Ashcroft on BBC Breakfast
There are multiple reasons why old school rock and roll stars are rarely seen on breakfast television. For starters, they're unlikely to be up unless they haven't been to bed yet. Then, like former Verve man Richard Ashcroft at 9am on October 25, they insist on wearing sunglasses indoors, climbing on the sofa and claiming that liking his music means you're "good looking".
SADDEST MOMENT
Paul Cattermole selling his Brit Award
While Dua Lipa and Stormzy were making their acceptance speeches at the O2, they could have looked to Paul from S Club 7 for a bleak picture of what might happen to their Brit Awards in 18 years' time. Not famous enough to get much work these days, but still too famous to get a normal job, he put his 2000 trophy for Best Newcomer on eBay. It sold for an impressive £66,000 – a happy ending until the winning bidder didn't cough up.
CATCHPHRASE OF THE YEAR
"Thank U, Next"
Ariana Grande moved on from her last album with as much confidence as she has from her boyfriends, releasing a new single less than three months later that offered a sweary update on her personal life. Thank U, Next is less I Will Survive, more I Have Survived, declaring "Now I'm so amazing" in a song that acknowledges her relationships while refusing to be defined by them. Great tune, too.
GIG OF THE YEAR
David Byrne – Eventim Apollo, June 19
The former Talking Heads man deserved all the hype he got for his unforgettable reimaginging of the live music experience. On a bare stage he set his 11 musicians free with headset microphones, wireless guitars and percussion instruments strapped to the drummers. Every song was a striking set-piece, with giant shadows, sharp dance routines and even a plastic brain coming into play. Together with choreographer Annie-B Parson, he set a new benchmark for what can be achieved outside the world of the arena pop spectacular.
ALBUM OF THE YEAR
Christine and the Queens – Chris
Few were looking to France for the next pop superstar when Heloise[ACUTE ON FIRST E, UMLAUT ON I] Letissier wowed the English-speaking world with her debut album in 2014. For the follow-up, she pushed further away from mainstream expectations, returning with a more gender fluid persona, Chris, and making soulful, funky electropop that merited comparisons with Prince and Michael and Janet Jackson rather than anyone from her own generation. When she arrived here on tour, she presented the songs in a startling way that made hers another strong contender for gig of the year, too.
THEY ALSO SERVED
One of the greatest of all time, Aretha Franklin, joined the great gig in the sky this year. Familiar names with larger cult followings left us, too, including Mark E Smith of The Fall, Cranberries singer Dolores O'Riordan, Pete Shelley from The Buzzcocks and Chas Hodges from Chas and Dave. It was the early deaths of rapper Mac Miller and DJ Avicii that started new conversations about the pressures of musicians' lifestyles. It feels like it's gradually becoming a little easier for stars to talk about needing help.
TREND OF THE YEAR
Soundtracks
Thanks to Ed Sheeran's dominance, we're well used to unconventional notions of beauty in the pop world, but few could have anticipated that the breakout star of 2018 would be a bearded lady. Keala Settle's bristling performance of This is Me powered The Greatest Showman soundtrack towards almost as many weeks in the UK's number one spot as Adele's 21. The music from A Star is Born, Bohemian Rhapsody and Mama Mia: Here We Go Again also sold by the truckload. Somewhere in Hollywood an executive is plotting a high-octane reboot of Seven Brides for Seven Brothers as we speak.