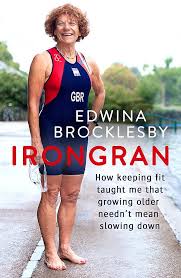 They call her Irongran, and although that triathlon suit does look a little like a superhero's spandex, Edwina "Eddie" Brocklesby is not a new character in the Marvel Cinematic Universe. She's a 76-year-old grandmother of four who has been demonstrating what's possible for older athletes since she completed her first marathon at 53.
In 2005 she ran the London Marathon in 3:45 – a fine time for most people, never mind a 62-year-old. Ten Ironmans later – six of them completed – the Bristol-born former social worker is Britain's oldest competitor in these epic, masochistic challenges. "To actually finish one is a brilliant feeling. That's probably what motivates me to have another go," she says.
Her eleventh will be in Austria in July, when she'll be 77 and going elbow-to-elbow against Dexter Yeats, a 75-year-old American grandmother. Both have a little longer to go, however, if they are to trump the overall eldest: Madonna "The Iron Nun" Buder, a now-retired Catholic sister who finished a Canadian Ironman in 2012 aged 82.
When she's not training with the London running club Serpentine or riding bike simulations with Zwift, Brocklesby works as the director of Silverfit, a charity that offers exercise classes for older people in everything from Nordic walking to cheerleading. Currently operating in 17 venues in nine London boroughs, they're looking to expand further, possibly starting to do Couch to 5k-type sessions to build members towards participation in Parkruns.
"We are run by older people, so there's no deterrent factor of people feeling they might not fit in," she explains. "There's also a strong social element, which is what we think keeps people coming back. It's about making it sociable, and making it fun."
It was the social aspect of running that encouraged her to take it up more seriously in the aftermath of her husband Phil's early death from colon cancer. She was 52 at the time, had been married for 30 years and hadn't done much sport since school beyond a bit of netball and squash. She joined a tiny club near Nottingham where they lived – South Notts Athletics Pacers, or SNAP. It folded not long afterwards due to its small size, but not before securing a place for her to represent them in her first London Marathon. "Getting a place was quite a privilege, and in my view I had to do the club justice, so I started doing some serious training."
Having wrecked her anterior cruciate ligament while skiing, and supported her older son at triathlons, she decided to shift focus from constant running to more time doing the multi-discipline sport. This was despite the fact that she had never learned to swim properly. A year of lessons at 65 and she could finally do the front crawl, but it's still her least favourite element of the triumvirate (she likes cycling the best).
When we speak, she's just back from being coached on a trip to Lanzarote, and says her swimming still leaves something to be desired. "Everyone said I kick off brilliantly at the beginning of a lap, but then the kicking ceases totally and my legs begin to sink," she admits.
She had supported her son while he did an Ironman on three occasions, so at 66 that was the obvious next step for her. In 2009 she completed her first, alongside him, in Lanzarote. She says she has never felt patronised at a start line – "People are always really encouraging" – though the way the Ironman is set up can make life harder for slower swimmers like her.
"It's a rolling start and you position yourself for that, so you might start 20 minutes after the stronger swimmers. But the cut-off is real time, not your chip time, so if you place yourself honestly towards the back, you're put at quite a disadvantage."
She's now advised and given programmes by Annie Emerson, who formerly represented Great Britain at triathlon, duathlon and running. Asked what adjustments she makes for herself as an older woman, it doesn't sound too radical. "I'm conscious of not pushing myself too hard when running outdoors, as I don't want to injure my knee," says Brocklesby. "But I don't change much. I just accept that it's okay to be slower. In an Ironman I enjoy the run, because it's later on and more sociable. You're not going in the heat of the sun like the faster people."
With two more triathlons and the Prudential RideLondon Surrey 100 in the diary for 2020, she may be getting older but she certainly isn't slowing down. She's a brilliant advert for keeping going at an age when many would be telling you to put your feet up. "There have been lots of benefits that I'd never have thought of," she says. "I saw a specialist at the hospital recently who said I haven't lost as much hearing as most older people. I knew about improvements to my muscles and the cardiac stuff but they were talking about how beneficial physical activity is to my brain as well. There are odd things too – I think my hair is stronger than it used to be!"
A barrage of reasons to sign up for another Ironman. In the future there could be plenty more septuagenarian athletes where she came from.
EDDIE'S THREE TIPS FOR OLDER PEOPLE LOOKING TO GET FIT
1. MAKE IT SOCIABLE
"Try and find somebody else who'd be interested in walking around the block with you, then walking a bit faster, and possibly breaking into a jog. It's more difficult to keep it up if you're doing it alone. With Serpentine, the key to me wanting to travel to training on a Wednesday night is the fact that I'll end up with 20 others in a local pub."
2. GET OUTSIDE
"Being out in the fresh air is so therapeutic. I always feel good when I've got outside. Look on your local authority's website to find out what facilities they have. As our population gets older there's been a lot done to encourage older people to be more physically active. And find a Parkrun – I think Parkrun is absolutely brilliant."
3. MAKE IT FUN
"That's the big one for me. There's not enough said about how enjoyable this can be. Look at the photos of our Silverfit cheerleading classes – there's a smile on everybody's face!"