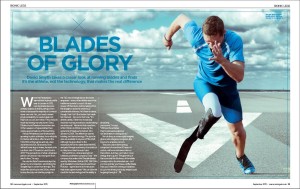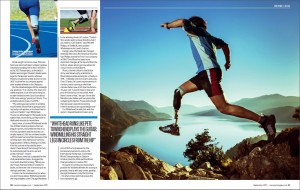 When the Paralympics earned their highest profile ever in London in 2012, running blades became unlikely objects of desire, perhaps even more so because the majority of us would never own one. Yes, you need a severe physical disability to need a blade, but they look so cool, don't they? The products made by leading manufacturers Ossur, Ottobock and Freedom Innovations are futuristic X-Men weapons of speed rather than clunky approximations of the real thing.
Richard Whitehead saw at first hand the upswing in public attitudes, from mild pity to intense admiration, after he won the T42 200m at the Games and set a new world record of 24.38 seconds. A congenital double amputee, born without lower legs or knees, he went on to run from John O'Groats to Land's End in 2013. "The perceptions of what a disabled person can and can't do have gone from zero to hero," he says.
He runs like Pete Townshend plays the guitar: by circumduction, windmilling his straight legs in circles from the hips. This made him stand out in the 200m, where he was the only one starting upright in the T42 class of single above-the-knee amputees, all in the traditional sprinter's crouch. He was slower off the blocks before taking off on the straight to beat the others by a considerable distance. He's keen to stress, though, that it isn't the blades that made him the best – his two to their one. "It's athletic ability. Otherwise everybody would be running marathons and breaking world records." He ran his first marathon, in 5 hours 19 in 2004, on exactly the same kind of blade as his fastest, 2 hours 42 in 2009. The difference was his training, not the technology. The type he uses are available to anyone off the shelf. Although he goes direct to the manufacturer for his rather than the NHS, and gets through a set every six months or so, they're not like unattainable Formula 1 cars.
Richard Hirons, clinical specialist at Icelandic prosthetics company Ossur – the company that makes the Cheetah blades used by Whitehead, British 2012 T44 100m gold medallist Jonnie Peacock and Oscar Pistorius – agrees that it isn't the blades that make a great runner. "We can take the credit for the technology but the ability is absolutely paramount," he says. "Without the athletes they're just passive devices, like running shoes."
Nor do they, as some might imagine, give an advantageous kangaroo-like bounce to amputee runners. They are carbon fibre springs, comprised of more than 80 layers of carbon, with normal trainer soles on the botom, but they can't return more energy than is put in. The geometry of the curve and the thickness of the blade corresponds to the intended use – so if you're a sprinter you'll have a stiffer blade than you'd need for running a marathon, as up to five times your body weight could be going through it.
Stride length can be an issue. Pistorius famously slammed Alan Fonteles Cardoso Oliveira for beating him in the T44 200m at the 2012 Paralympics, as the latter's blades were longer. Oliveira's blades were legal for Paralympic events, whereas Pistorius's had to be a little shorter for the IAAF to allow him to compete fairly against able-bodied athletes in the Olympics.
But the disadvantages still far outweigh any positives. "For a below-the-knee one-sided amputee, to do the same thing [as an able-bodied runner] you'd use about 50 per cent more energy," points out Hirons. "For a bilateral above-knee, you're talking 200 per cent."
"My cardiovascular system is working much harder. Blood flow is going round my body a lot quicker so my heart has to work a lot harder," says Whitehead. It's also no advantage for the blades to be lighter than a normal leg, as they have no dedicated muscles to move them.
Injury-wise, of course Whitehead avoids the Achilles tendon problems that can plague runners, and unlike the rest of us, if he has a problem with his foot he can simply replace it. But he can have trouble with his lower back and hips because of his running style. Also, falling over can be a huge problem. Without feeling in his feet, if he hits a stone in the road his brain doesn't hear about it fast enough for him to instinctively put his arms out and protect himself – smash.
Kelly Bruno, who has competed for the USA paratriathlon team, struggles the most with downhill running. "When you don't have that heel strike it's harder to brake, so there are a lot of stresses put on the hips and knee," she says.
Corners can be troublesome too when you don't have ankles. Whitehead prefers the long straights of the Chicago marathon to the winding streets of London. "Carbon fibre works really well in a linear direction, but if you twist it, it can shatter," says Mitchell Phillips, performance analyst at StrideUK, who assisted Whitehead on his Land's End run.
Design-wise, the blade has changed relatively little since the American inventor Van Phillips started his Flex-Foot company in 1984. Chris Moon has seen more important changes at the top end than the bottom, where silicon gel now allows for a much more comfortable fit.
Moon, a former officer in the British Army, was blown up by a landmine in Mozambique while working for a charity in 1995 – it literally cost him an arm and a leg. Over 20 years, he's seen great improvements in comfort, and is running a mile three minutes faster now, at 53, than he did as a 33-year-old. "I used to have to stop and pour the blood out of my socket. Now there's none of that," he says. He ran the Marathon des Sables just two years after sustaining his injuries. "It was extra tough then because I was still recovering. I think it would just be a good laugh now." If you say so, Chris.
He's just started using a new blade with a heel, which he thinks will suit him on the ultra distances he prefers. Whitehead will stick with the same C-shaped blade he's been using since 2004 as he prepares for the Anniversary Games in London, the International Paralympic Committee World Championships in Qatar in October, then Rio 2016 and the World Championships in London 2017. He wants to continue to show what's possible for disabled athletes for as long as possible. And as with any runner, getting the right footwear is only the first step – it's what comes next that reveals the real champions.