THE SECRET LIFE OF… THE RUNNING COMPOSER
Meet Saunder Jurriaans, who runs to inspire his film soundtracks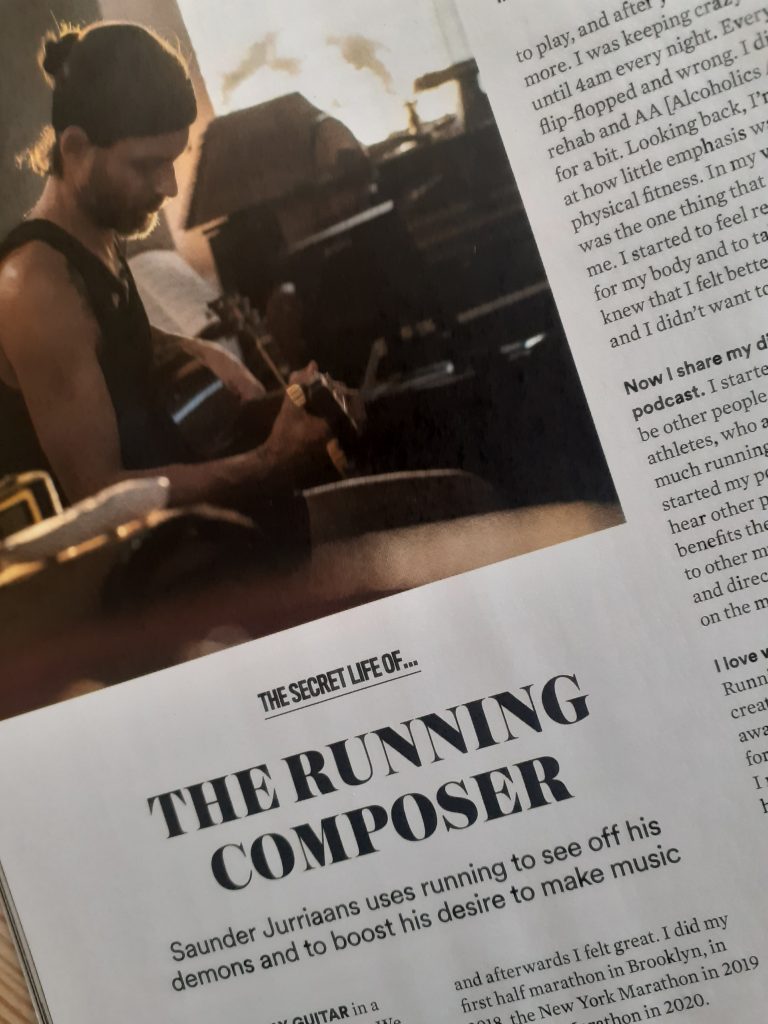 Running makes making music easier
I used to play guitar in a band called Tarantula A.D. We supported Pearl Jam. I just released a solo album, but mostly I now compose music for films and TV with my collaborator Danny Bensi. I worked on the film Martha Marcy May Marlene and the TV series American Gods, and was nominated for an Emmy last year for my work on Ozark. My day is very intense. I have to write a lot of music. I need to have something else to do, and running has filled that void.
I wish I'd known sooner
For me to be doing an interview in a running magazine is the craziest thing that could happen. I didn't start running til my 30s and I'm 43 now. When I started, I just did it to try to stay somewhat balanced with the rock and roll lifestyle and binge eating, and I hated it. But eventually I got to a point where I was no longer feeling uncomfortable while I was running, and afterwards I felt great. I did my first half marathon in Brooklyn in 2018, the New York Marathon in 2019 and the LA Marathon in 2020.
The musician's lifestyle is messed up
When you're on tour, you're in a bar every night. You drink while you wait to play, and after you play, you drink more. There was a point where I was definitely abusing. I was keeping crazy hours, up til 4am every night. Everything was flip-flopped and wrong. I did some rehab, and AA for a bit. Looking back I'm surprised at how little emphasis was put on physical fitness. In my view it was the one thing that really healed me. I started to feel some responsibility for my own body and take care of it. I knew that every time I ran, I felt better, and I didn't want to break that cycle.
Now I share my discoveries in a podcast
I started to think there must be other people like me, who aren't necessarily athletes, who are discovering how much running helps their lives. I started my podcast, Giant Steps, to hear other people's stories about the benefits they get out of it. I'm talking to other musicians, novelists, designers and directors. We spent a lot of time on the music, too, of course – it's fully immersive.
I love what running does for your mind
Running adds in so many ways to the creative process. It's being able to get away from the music and rest my mind for a bit. I can feel my mind relaxing as I run. The fitness part is great, but it really helps me to be more productive, more efficient, more creative. It opens me up so that I have more energy to make things. Also, it pushes away the demons. I feel really strongly about giving this gift to other people. For anyone struggling with depression, anxiety, addiction, there's a lot of healing that can be done with running. I can be having one of those days where I feel the pressure and darkness and I'll go out for a run and it will literally just go away. It's incredible.
https://podcasts.apple.com/gb/podcast/giant-steps/id1538156125