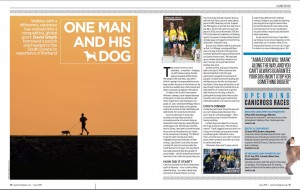 The runner in front of me is relentless, a machine, charging on with tireless energy despite being somewhat distracted by the sheep in the next field. Just when I think it's going to be impossible for me to keep up with his pace for the whole run, he lurches to a sudden stop, sniffs a bush and takes a long wee up against a fencepost.
I'm high on the South Downs above Alfriston making a cackhanded attempt at the sport of canicross with Nero (last name: Superhero), who belongs to my guide, 35-year-old Robert Whippy. Nero is a rescue dog from Spain, so his genetic origins are unclear but he's definitely part-dachshund. The longer legs granted to him by the other half of his DNA prevent him from looking completely ridiculous in a sport usually dominated by huskies, pointers and collies. He's small but pretty fast.
If you've taken part in a trail race recently you may have noticed an increasing number of runners lining up attached to their dogs by a waist harness and bungee cord. At February's IceMan race in Surrey I was able to locate the start line as soon as I'd parked my car, thanks to the cacophony of barking. "It's difficult to get the start moving even with a megaphone because nobody can hear a thing," says Eileen Cook, who has been running UK canicross events under the CaniX banner for 10 years. She says that it has really kicked off with the growth of social media – check Facebook and there's now sure to be a canicross group near you.
Canicross evolved from the Scandinavian sport of skijoring – cross-country skiiing pulled by dogs – as a way to keep dogs and owners fit when there's no snow. The French discovered it quicker than us, with the first Paris canicross meet taking place in 1982. Now they run the Trophee des Montagnes, an annual nine-day race in the Alps. The first UK canicross race took place in 2000, and in November 2016 the IFSS (International Federation of Sleddog Sports) European Championship Dryland will take place in England for the first time, in Norfolk's Thetford Forest.
But you don't have to take it as seriously as that. For Whippy, running with Nero was a fun way to prevent the injuries he had been getting through pushing himself too hard in human races. "We naturally go at a slower pace than I would on my own," he says, as his pet halts to findanother post to wetten.
As Nero proves, any type of dog may take to the sport. When canicross was demonstrated at Crufts this year, participants ranged from big beasts to puppies. Huskies are bred for pulling and will help you up the hills, but they aren't the fastest. Some dogs will joyfully run all day, though CaniX recommends 5km as an ideal distance. It's important to get the right harness for the dog, so that it's pulling with its body rather than a collar round its neck, and to get it used to the wired, raucous atmosphere of a canicross start line.
A male dog will "mark" along the way, and you can't guarantee your dog won't stop for something bigger too – think of yourself as a top Formula 1 driver having a pitstop. Female dogs are subject to a rule you don't get at human races: "no bitches in season". CaniX suggests that you don't run a dog on a full belly, but just give it water or perhaps goat's milk before a race, giving it a treat and feeding it properly after the race is over and it has fully calmed down.
Otherwise, there aren't many rules to make this that different from ordinary running. You might try teaching your dog left from right for when there are fast trail decisions to be made, and a command such as "on by" would teach it to give others a respectfully wide berth when overtaking. Not every runner is thrilled to meet a dog while racing.
As we return to his home for a well-earned biscuit, I hope Nero can forgive me for almost stepping on him a few times, as I'm smitten. Now, if I can only get this harness onto my cat, I've got an idea for a more challenging sport.
THREE CANICROSS RACES TO TRY
NEOLITHIC CANIX/WWT HALF MARATHON
3 May 2015, Stonehenge, Wiltshire
canix.co.uk
There are 6m and 21km races to try on atmospheric Salisbury Plain. Druids welcome.
BRUTAL 10: 12HR ENDURO
20 June 2015, Bordon, Hampshire
brutalrun.co.uk/race/brutal10-enduro
Canicross runners are welcome at this all-night endurance race, though you surely won't want to keep your dog (or yourself) going round the 10km course for the full 12 hours. Ideal for a team challenge.
KEYNES PARK CANIX SUMMER SPLASH
23-27 July 2015, Cotswold Water Park, Gloucestershire
canix.co.uk
Two days of racing, with the option of four days of camping. The running is just 3km, leaving plenty of time for all the water sports on offer.